We have a few other websites, projects, and ministries we're involved in, and…oh yeah, day jobs.  Here are a few of the things we're passionate about.
AnsenCreative
In whatever spare time he can find, Ansen performs freelance graphic design work through his own freelance offering called AnsenCreative.
Whether you're looking for a website, WordPress theme, logo, business card, t-shirt, or something else, chances are Ansen can help you fill that need!  AnsenCreative also performs voicework and social media consulting.
101.1 KLRC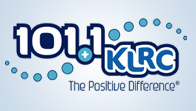 Ansen works at 101.1 KLRC, a contemporary Christian music station located in Northwest Arkansas.
He'd be the first to tell you that he initially wasn't sure about the idea of working at a station with a primary demographic of females that are ten years older than he is, but he's since learned about the amazing impact that Christian radio can have on all different types of people.  KLRC is all about sharing hope with Christ, and we're thrilled to have the opportunity to be associated with such an amazing staff and their incredible ministry.
The Drive-Home
Ansen co-hosts a daily afternoon radio show on KLRC called "The Drive-Home."  It airs weekdays from 3:30-7:00pm.  The show is primarily music drive, but also includes personal stories, listener call-ins, contests, weather and traffic information, and more.
To see what's been going on with the show lately, you can check out the official Facebook page.
Cross Pointe Community Church
Our home church is Cross Pointe Community Church in Tontitown, AR.
We actually began attending the church together while dating in college, and would eventually be married by the pastor.  After leaving the church so Dri could explore internship and eventually employment opportunities (her degree is in Youth Ministry), we returned to our "home church" in 2011 when Dri because the associate college pastor.
We've enjoyed the church as members of the congreation, and we were that much more excited to have an opportunity to return as a part of the church staff.
Context Deficit
Sometimes people say weird things.  Especially Dri, for whatever reason.  In any case, we decided it would be fun to document the weird things people (like Dri) say, minus the context that they said it in.  Thus the name, Context Deficit.