So there is one week left in June (next week) and I had $17 left at the beginning of this week, but there were a couple of good deals I got this week for almost free:
Walgreens:
These were $3.99, buy one get one free, but I had a $5 register reward (I used the rest of it on some freezer bags for future freezing projects!)
Total: FREE
Target:
The Nabisco crackers were $2 each. Target had a $1/2 printable and there was also a $1/2 manufacture printable, making them $1 each. There was microwaveable popcorn on clearance for $1.25 and the chocolate bar on clearance for $.54 (for Ansen). Luckily, if you bought 2 boxes of Up and Up Baby Wipes, you get a $5 gift card. I used this to pay for all of this…
Total: FREE
Walmart: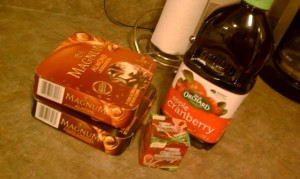 First of all, I got to go to Walmart all by myself because I waited until Miss Avie was asleep and left her with daddy! It was so much fun to be able to go through my coupons and check on some prices for my master stockpiling list. Anyways, I had a coupon for free Old Orchard juice. Then I had TWO $2 off coupons for Magnum (for liking them on Facebook). Now I know that's kind of a splurge, but they were on sale for $3, making them $1 each and the coupons were going to expire at the end of the month! Lastly, on the clearance rack, I found these Knorr Chipotle flavor cubes for $1.14. We use chipotle peppers in our favorite "Spicy Pasta" but while they keep for a long time in the fridge, sometimes we run out of them. This is a great way to make sure that we always have them!
Total:$4.33 
Aldi:
The only thing I HAD to get this week was milk. I thought about getting it at Walmart last night, but it was $2.98… at Aldi's it's $2!!!
Total: $2.09
So I have $10.78 for anything we need next week! This could be a real challenge, but here are some things we do have: green beans, some okra and lettuce (from the church garden!), black and refried beans, mozzarella cheese, cream cheese, tomatoes, and other random pieces that don't really go together. Next week's dinners are going to get that much more interesting!