The past few weeks, I've been working on details… and pallets. But mostly details. Like finally hanging my shelves above my desk!!
I drilled some pilot holes for the wall anchors in the wall. Then I drilled pilot holes in the bracket for the screws (one in the center and one on the bottom). Then I went to Walmart to exchange the original screws I bought that I realized would be much too short for a 1 1/2″ screws. Then I used a short screwdriver in the center to screw it to the wall. Making sure it was level, screwed the bottom one in. Then again, using a level to make sure the two brackets were level with one another, I screwed the center to the wall and then the bottom. Thanks to my daddy for letting me borrow a saw (since mine died… literally days before doing this project, and the Lowe's saw was out of commission!!) I now have a shelf for some of my scrapbooking/crafting goodies!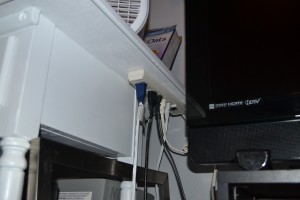 I also attached this handy little power strip to the underside of my desk so that I can plug in my glue gun, sewing machine, serger, iron or just about anything else… with ease. I used the ol' photo-copy-the-back-side-of-your-power-strip-and-use-it-as-a-guide-for-holes trick. And I used SUPER short screws so that it didn't puncture through my desktop.It also frees up the hidden power outlet for the TV and it's stuff.
Speaking of which, we thought about upgrading our 6 year old DVR to the new Hopper. Even though we've been loyal customers for 6 years, they were wanting to charge an arm and a leg for it. So finally we decided, maybe we'd be ok with living without satellite… at least for a while. Maybe we could save that money toward something else. We also knew that if we called to cancel, we'd end up talking to the retention reps and they'd probably offer us a deal. Before calling, Ansen had already made up his mind where he'd draw the line. If they didn't offer a good enough deal… we'd be ok with leaving. Not really knowing the outcome, he called while I put Avie down for  a nap. I, fully expecting to be signing up for Netflicks or Hulu Plus soon, came back to find that not only had he got them to wave the upgrade fee (like $265!!), but we're also getting $25 off a month for the first 12 months of our new 24 month contract. To upgrade would add an extra $15 a month, so really, we're paying $10 less than we were with no upfront cost. The 2nd 12 months will be regular price, so basically, this savings is a wash, but it didn't cost us more. I'm so proud of him! Way to go Ansen!
If you're out of contract, I'd highly encourage you to give it a try. Be prepared to cancel if they don't give you what you're looking for and be prepared to say no to the first few offers (the first was only $10/month off, but still the full upfront upgrade cost, which was a no go!). But hey, it could mean a free upgrade and saving a few bucks.
And to go with the new DVR, we have been saving (remember that garage sale?) for a new, bigger TV for the living room that actually fits the hole.
See, it's almost the same size as the fire place! What happened to the old one?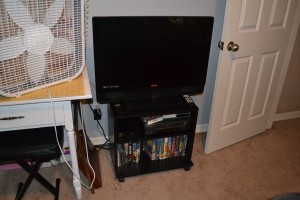 It now allows this TV cart in the office to take up less space and actually use the second cable line we've been paying for. The previous TV had a loose coax cable connector in the back and getting the feed to come through was kind of a pain. Now Ansen can watch Sports Center in HD while he works at his computer! Don't worry, the other TV is going to a good home: my little sister moving away to college this fall. It still plays DVD's and has a built in VHS player, so she'll get plenty of use out of it.
Tired yet? Just wait, there's a few more! Like this diaper box that I recovered in wrapping paper for a doggie box to hold all of Seify's treats, grooming equipment, leash, etc.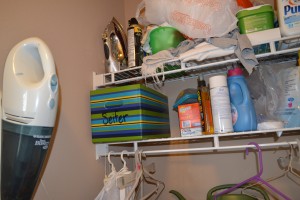 I love diaper boxes! I buy diapers in the box just so I can have the box! I mean, they're cheaper that way too, but those boxes are the perfect size. I've been going through a box of diapers (amid the soft packs) at about the same rate Avie outgrows clothing. So I have one box always open in her closet that I can stick too-small clothes in as I come across them. Then, they're generally grouped by size and one diaper box holds about a seasons worth of clothes. They're easy to stack and easy to carry. Even different brands have similar size boxes so I don't have to be brand loyal just to get the boxes I want (although it does help if you're OCD and want them all to be exactly the same).
Lastly, I discovered that little missy's hair is just long enough for pig tails!
After watching a friend's 5 month old the other day, I realized my baby isn't a baby any more. She's a full blown toddler. Pigtails, walking and talking and having her own opinion. Ansen got to see her little attitude recently too. We weren't paying enough attention to her, so she walked over and smacked my laptop (on my lap). Even after being told, sternly, that was not allowed, she did it a few more times with that knowing look that only a scolded child can give, before the temptation was removed. Willful, albeit cute, disobedience. Don't worry, we're working on it, but those little sin-natures start early. Here we go!