Yesterday was a busy day:
Work meeting at the church.
Other work party – Field Agent is 2 years old!!
Target
Sonic for half priced drinks!
Make sure Allstate took sold car off of insurance
Buy a Sunday paper (luckily they still have them on a Tuesday)
Take half price drink to hubby
Chat with Vonda
Take walk with hubby
Finally home to make and eat dinner
During all of this we had a baby teetering on the edge of a melt down. She wailed while I printed & clipped coupons and compiled my whole trip. She cried the whole 20 minute drive to my meeting at the church. She screamed as soon as she was back in her seat, but luckily, she finally fell alseep on our way to Target and the whole hour we were there… and on the way home! But the sleep didn't help. More screaming while daddy held her as I made dinner.
Anyways, I had a great shopping trip to Target!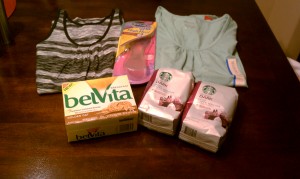 Bought 1 Mossimo Tank Top at $5.38 in clearance (there were $6 tanks on sale this would work with too)
Used 1 $3/1 Target Mossimo coupon
$2.38 after coupon
Bought 1 Merona T-shirt at $7 (there were also $6 tanks on sale for this too)
Used 1 $3/1 Target Merona coupon
$4.00 after coupon
Bought Dr. Scholl's for Her High Heel Insoles at $6.99
Used 1 $3/1  from the 3/4 SmartSource insert
Used 1 $1/1 Target Dr. Scholl's coupon
$2.99 after coupons
Bought BelVita Breakfast Biscuits at $2.99
Used $1/1 on coupon from the 2/26 SmartSource insert or printable
Used $1/1 Target BelVita coupon
$.99 after coupons
Bought 2 bags of Starbuck's Coffee at $7.99 each
Used $5/2 Target Starbuck's coupon
Used 2 $1.50/1 printable
$7.98 total or $3.99 each
Pre-Coupons: $42.63
Total Trip with Coupons: $15.73
Used a $5 gift card from last week's Venus deal
$10.73 total!
Can you believe that? That's $26.90 savings. Man, I should do this every week! AND I managed to compile this trip all with a screaming baby, so maybe not that part.
Today we managed to grocery shop and get an oil change while she teetered again. (Gotta love that Walmart does a little bit of everything!) I have to admit, shopping with baby in the Moby was a first, but at least she wasn't wailing in the frozen foods!
Maybe tomorrow I can update about my potted "garden" which I haven't entirely forgotten about.