Labor Day was a bit different for me this year. Since I can remember I have spent about every Labor Day in Severy, KS. It's a small town in eastern Kansas. And when I say "small", I'm talking like… 100 people on a good day. But on Labor Day we double or even triple that number, because everyone who has ever been from there (or who has family there) comes back for the Labor Day festivities. The "Sing-spration" and ice cream social with all three churches on Sunday night, the annual softball tournament (the winner is whichever team was sober enough to remember the score), the parade Monday morning, the kids hay scramble, the tractor pull, the pièce de résistance: the talent show Monday afternoon. The convenient thing is that my birthday always happens to fall around Labor Day. I'm pretty sure that as a kid, I thought everyone had a parade for their birthday.
This year, as I said, things were a little different. We didn't make it to Severy. It gets harder and harder every year. But we did manage to have some fun or our own.
We started with the mother-daughter pedicure: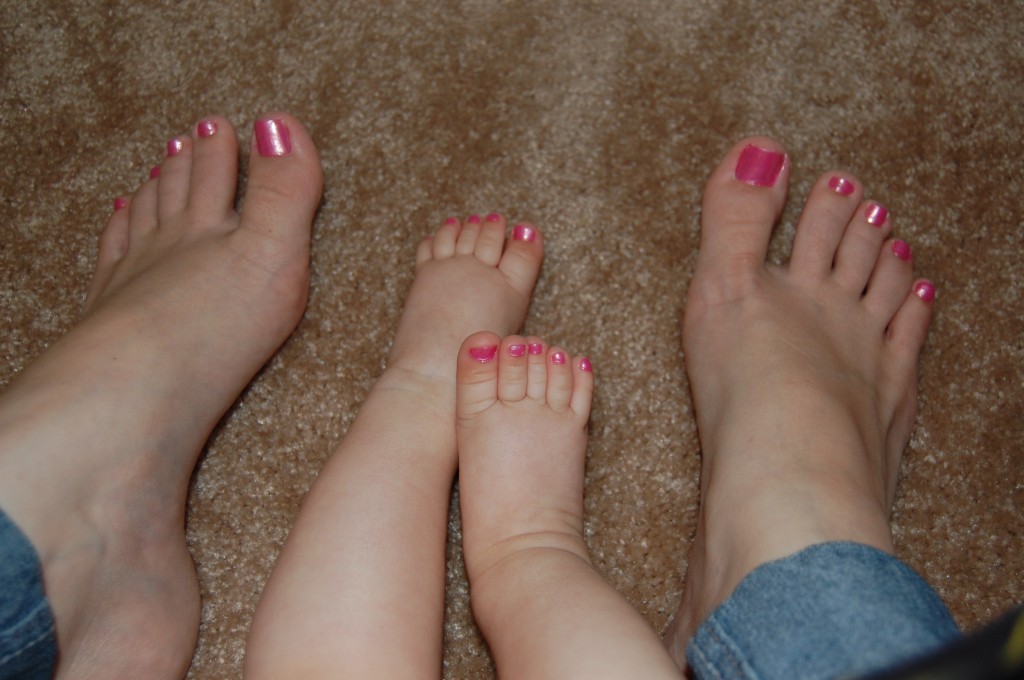 Then we did the husband-wife furniture find:
And the ultimate competition… assemble the furniture:
Actually, all the assembly was done, except putting the mirror up. That was challenging enough… and it's still leaning, so now we have to figure out how to brace it to the wall so it doesn't fall on someone. I don't think it actually would, but it looks a little sketch if you see if from the side.
We've been saving to buy this furniture since… well, since we bought the house. But it's our bedroom, and no one sees it, so of course, we focused on everywhere else. Last Christmas, we decided that we would put all of our Christmas money together and buy some furniture. It was a good start, but furniture (even the cheap stuff) is expensive. So we kept saving. We planned to buy something for our anniversary, but didn't quite have enough. After saving for another month… and refiguring what we could afford, we we back to our friends at Furniture Factory Outlet and made a deal.
One dresser with mirror and two nightstands (that match) for $574 (tax included). Originally, the total price would have been $633 plus tax, but we had cash and were ready to take it home that day, so they worked with us. We saved about $100 just by asking and paying with cash. Also, it didn't hurt that we had already saved an estimated $300 by looking at FFO instead of Ashley.
And then, I had to share this picture of Avie starting to play with Cheerios. I gave her 8. I found 3. I think she may have even gotten one into her mouth. I have no idea where the rest are… maybe the dog got them…