Today has been a particularly aggravating day for the Bayer family. Ansen and I were awoken by a particularly pesky and aggressive fly before our alarms were set to go off. Then once we finally got out of bed, we find Avie, with her pants down and poo everywhere…. including the dogs new toy that he got for his birthday yesterday. Of course there was all kinds of "how do I even…" while cleaning up the carpet.
(oh, and Avie and I made these neon cupcakes the other day.
So neon blue poo too.)
In the middle of this, Ansen has started trying to mow because yesterday, about the time he was ready to/it was cool enough, it rained. But… sadly… the dew was just too much. He got about a third done, stopping 10+ times to clear out the wet grass.
Right in the middle of this, I realize no one let Seifer out before he started mowing. Of course, I realize this because he is now PEEING on my carpet. I yell at him and he proceeds to walk while peeing and then start peeing in a new spot.
So I throw him outside and yell at Ansen something about "why didn't you let him out first!?!?" But he's already frustrated with the mower and can't hear anything I'm saying because he has headphones on.
Needless to say, not a good way to start off a day, however comedic it seems after the fact.
On a somewhat related note, not a good way to start off the sale of your home: a broken garage door.
The week we listed our house (which of course has now been almost 8 weeks) the garage door opener just stopped working. It would go up a few feet and stop and then go up 6 inches and stop. Then it would just stop altogether. We Googled it and found it was most likely just overheated, so we unplugged and waited… to no avail. It remained unusable. The first time it was used of a morning, it might work. Once. Then it wouldn't for the rest of the day. So we just uphooked it and used it manually for a few weeks.
I finally got brave enough to call someone because I know absolutely nothing about garage doors and I wasn't super keen on replacing it myself. The gal I talked to asked if it worked if I pushed and held the button. It did! It was fixed, I was so happy… I thought.
And then it stopped working a few minutes later.
So they send a guy out. He says it's this thing:
Some plastic gear that the engine chewed up. $140. Not fun, but we have him replace it. It works 7 or 8 times for him.
Not an hour later, we go to leave for a thing we have that evening and it won't work. Again! What!?!
Call them back, he comes back to look at it. Says the gear is torn up again. It's a motherboard issue. (A motherboard we replaces not even 2 years ago.) It's going to cost more to replace this part again and the motherboard than a new machine. They'll take $100 off for the last visit. Still $200 more. Fine. Whatever. Just do it.
So a couple days later, he finally gets back to Siloam and installs the new one. It works! Still noisy (and we noticed the chain grinds on the track when it goes) but he says that's because our garage isn't insulated. I'm not sure, but it works. If we can ever sell it, we can let it be the new owner's problem. And, since we won't have a garage at the new house (if we even get it) we won't have to deal with it again.
Ah, if we could just sell this house. I think we've just about given up hope that's going to happen before the other house sells to someone without a contingency offer.
But on the bright side, Avie played in the rain today and she's super cute:
She shivered the whole time and was purple when she came in, but she had a blast running through the puddles!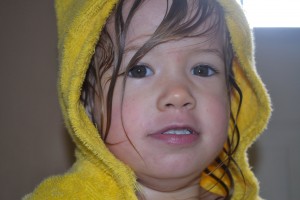 There you go, baby tax for my feeling-sorry-for-myself story.