I have this sparkly flannel that I used for some baby shoes and I have been dying to make boots. Boots are a little more involved, but every tutorial or template I found (that was free, because I'm frugal) wasn't quite what I wanted. They all had shoe-like bottoms with a flap that closed around the top.
It's cute, but I wanted the front attached to the toe like regular boots. So I found a photo tutorial that appears to be in Chinese, for some Ugg copy cat boots for baby's. I won't post it here because it's an incredibly long photo. But that's what I wanted. (You can check it out on my Pinterest here, if you want.)
So to begin with, I needed a pattern. I started with the toe, but it was difficult to do with paper. Instead, I went and found an old T-Shirt I've been using for scrap, cut the neck off (which happens to be the perfect arc for these boots) and wrapped it around the toe of an existing pair of boots.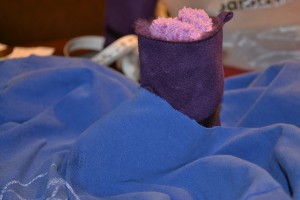 Using a sharpie, I traced it and cut it out. One side looked better than the other, so I folded it in half and trimmed them to the same. (Make sure that the better half is the smaller half, or you won't have anything to trim!)
Then I double checked that it would fit the toe of the existing boot.
Oh Joy! It does! You can't quite tell from this picture, but it should go back to about half way where the seam will be and be straight down. You'll see later what I mean.
Then I cut it out of paper (because that's easier to use as a pattern for later). And the front is a rectangle that fits from one side seem to the other, with the inverse of the arc from the toe cut out.
Maybe this makes more sense. When you put the right sides of the two together, the arc should be the same.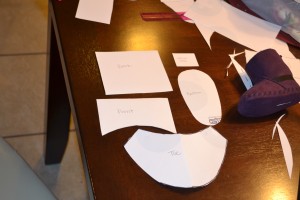 Next, we need a back that is as tall as the boot and fits from one side seam to the other, but add a little to it for the seam and to overlap. I also cut a little square for a tab that I could use for velcro to keep the outside edge closed. Oh, and of course a bottom. You can trace the bottom of your boot… or I already had a bottom from another shoe project cut out that happened to fit. It's basically an oval. So there are now 5 pieces. The back, the front, the toe, the bottom/sole and the tab.
Or you can skip all of this and print my hard work. These are 12 month size, so make sure to print to scale (there's a 1 inch mark), but if you want smaller, scale it by 10-15% until you get the right size for the sole.