Today, my baby is FIVE months old! And we are having a lot more fun! I find that the older she gets, the more fun she is. Now she's rolling over and actually on purpose. She's pushing up on her elbows. She's laughing (mostly at the puppy). She's sleeping through the night. And just last week we started trying some solid foods. Just rice cereal, but she's actually doing pretty good!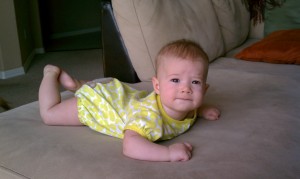 Today we hung out outside for just a little bit. Don't worry, since it was late afternoon, she was in the shade of the house.
While she was hanging out, I checked out the garden and we have tomatoes!
This plant has 4 or 5 like this one. And we have 3 other plants, including this one:
I think it might be ready in a few days. Any one know how to tell when Roma Tomatoes are ready for picking?