Christ is risen! Christ is risen indeed!
And we celebrate with bunnies?
This was actually weeks before Easter, but she loved wearing this costume around the house.
For Easter, we actually went to Wichita to see my family and have a surprise birthday party for my dad's 50th birthday! (And he thought we were just coming for Easter… haha!)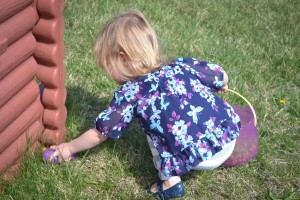 We had an Easter egg hunt at Nana and Papa's.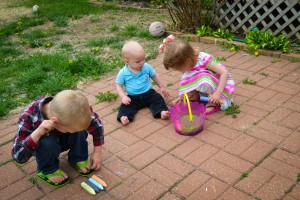 Even got some Easter baskets with some sidewalk chalk!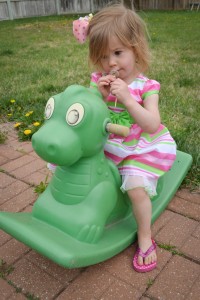 Here's Avie in her Easter dress… with a dandelion. Amazingly enough, this was actually her Easter dress from last year. It's shorter, but still fits around the top! I think this might be the last year for it though. Thanks Nana, for that find!
And, my happy daddy, with the gun his brother made him, out of his contribution to dad's gun fund. Surprise! Hope the next 50 are just as fun as the first!