Lest you think we've been too busy to decorate for Christmas, we actually put up the tree the Sunday after Thanksgiving!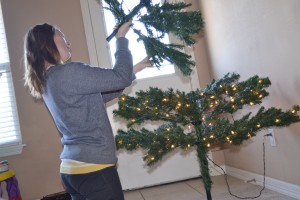 Avie tried to help…
But mostly, she was completely uninterested in the tree.
For outside, we put up some new lights this year (which I forgot to take a picture of!) and then I wanted something by the front door. I have heard of people (mostly on pinterest) wrapping garland around a tomato cage. Well, Walmart didn't have tomato cages anymore, so I used what I had from my tomatoes: bamboo stakes!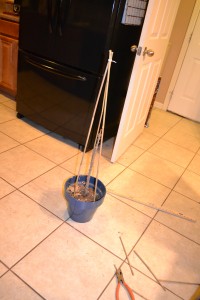 I've had these pots in front of the house for a while with various plants in them. At times they were real. Often they were fake because I can't keep the real ones alive. Once they were even LIVE mini Christmas trees. Those didn't last long.
I stuck the bamboo sticks into the existing block of soil/root ball and used a twisty tie (from all the new lights!).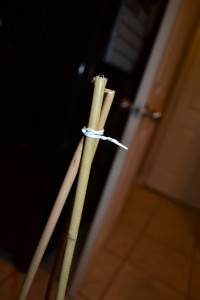 Then, I got 9′ branched garland because they were only $2 a piece. The other kind would probably work, but it wouldn't look quite as much like a tree. Then, starting at the top, wrap the garland around the "cage". You just have to keep wrapping and tightening and wrapping.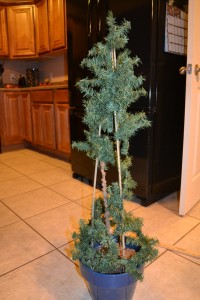 Once you get to the bottom, you can spend some time fluffing the branches and hopefully it will look more like this: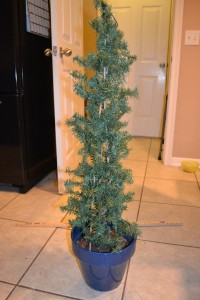 I added some tiny red ornaments that we no longer use on our tree and put them next to the front door. I also added some red bulbs and a silver bow to our wreath to match: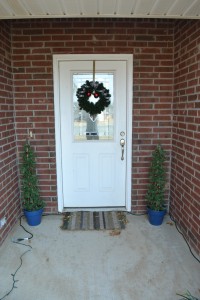 And I've been dying to have an advent calendar, but they're either too cheap looking, or too expensive, so I decided to make my own.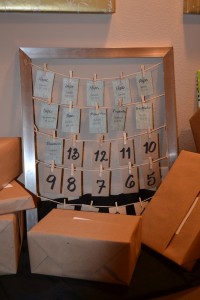 I put some wooden skewers behind the lip of a frame to tie/hot glue yarn to. If I had had a wooden frame, I probably would have just stapled or nailed the string in. I cut up a square of cardboard with scrapbook paper on one side. On the scrapbook paper side, I wrote the verses to read that corresponded with the day of advent. On the other side, I wrote the number. Then I used little clothes pins to clip them (in reverse order) so that it would be a count down. Each day, we take one down, read the verse and then turn it over. That way we always know how many days are left until Christmas.
I realize that this is Christmas eve, so that means there's only ONE day left! Which means I still have Christmas #1 and Christmas #2 to post about… but we'll get to that. Merry Christmas!