After such a fun and relaxing time with my family, we hurried home to finish Ansen's family's presents and wrap them all pretty for their own ledge presentation:
It was a little weird because in the past, we've always arrived at the other Bayer on Christmas, had the big shebang and then hung out. This year was flip flopped because we are making new traditions. You see, since I can remember, with the exception of the year my youngest sister was due to be born on or around Christmas, I have been at my great grandma Joy's for Christmas eve. We were there last year, for the last Christmas eve party, as sadly, this June she went to be with Jesus. I'm glad we chose to be there last year, even if it meant have to plan an alternate Christmas with my family this year. But this gives us an opportunity to create our own traditions.
As I said, we spent the majority of the trip relaxing and admiring Lila's new cabinets and eating some ridiculously good food on the front end. Some of Ansen's grandparents came down to hang out. We had prime rib. Avie went to the lilac walrus room in the nursery at church. We enjoyed a rockin' Christmas eve service. Then the main event: Christmas!
Avie and I had quite a stack of presents…
By second Christmas, she was kinda getting the hang of opening present… kinda.
The big present we got her was her first dolly. We were a little uncertain how she would respond, being that she was only 11 months…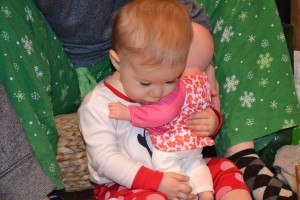 But she knew just what to do with it! After we rushed through some of her present, she promptly took a nap… dolly in arm. Christmas present opening can be an all day event, which tuckers a poor girl out.
One of my many favorite gifts we gave.
We didn't give this one… but it's just such a cool gift, I had to share. Arielle has a ridiculously large closet and really needed a manikin to fill it out. She named her too… but I can't remember what they finally decided on. Georgina?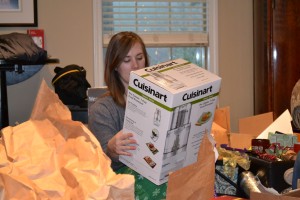 Pretty stoked about my new Cuisinart!!
Also, you may not have noticed, but in the window over my shoulder… it's snowing. It started snowing sometime during the day and never quit. There were inches… and inches… and we thought about going to play in it, but it was Christmas and we were all pretty much in pajamas all day. Putting on snow gear is a lot of work.
After a while, though, the pretty snow, turned to, "wow, this is a lot of snow. Is it ever going to quit? Did the lights just flicker?" A pop and a bang… a bright flash outside… bye-bye electricity.
In normal parts of the US, cities have salt/sand trucks (depending on their preference) and snow plows that head out the moment stuff starts accumulating. They also don't have big huge trees hanging all over their power lines because snow happens enough for them to know better. Little Rock? Not so much. We learned they actually purchased 6 snow plows since the last time this happened. Previously, they had zero. Let that sink in. And because pretty much EVERYONE in Little Rock lost power, the snow plows were busy clearing the way for the electric trucks.
So back to our saga. The electricity popped about 8pm after a full day of lounging and present opening, etc. Luckily, some of our presents were very useful. Quite ironically, almost everyone got a flashlight of some kind. Some were even crank powered so their batteries couldn't go dead. We light some candles and sat around with our flashlights. For the first time our whole trip, no one had something better to be doing!
We played "I've never" and "I have" (our variation), then we played Mafia. That was the winner, right there. Everyone got involved. Eventually, probably before we normally would, we decided to go to bed. Luckily, with a bunch of blankets, it really wasn't too bad. Avie even managed to stay under her covers too. (I had forgotten her sleep sack… which she practically wears every night. Of all the things to forget…) We slept comfortably, hoping that the morning light would bring power and we could return home, as we had planned.
Instead, this was the scene. And, after realizing that Ansen's parent's room (a south facing room) was about 5 degrees warmer than the living room (with no southern light), we moved in there. With several layers of clothes and a few blankets, it actually wasn't that bad. At some point Ansen's grandpa came in his 4 wheel drive and, taking 2 trips, brought us all to the hotel they were staying in. It was definitely a lot warmer there!
When it was time for Avie's nap, I decided I'd curl up in the bedroom with her because we really hadn't gotten much sleep over the whole trip (too much fun stuff going on!). When I woke up, everyone was no where to be found! I knew that we (Avie and I) were planning to stay at the hotel, with the heat that night… but no one came to tell me that everyone else was leaving. It ended up being just fine. I even found a new favorite show to watch: Castle. Grandma Sue, Grandpa Max, Avie and I watched a whole Castle marathon!
Later I found out that Ansen and his dad went back to their house, just so someone was home in case the pipes froze or something crazy happened. Ansen was trying to be sweet and not wake me and the only reason he wasn't answering my texts or calls was because his phone had no service at his parents house. The rest of the family went to a friend's who had gas fire places and cook top. The next day, we discovered that we might be able to make it home, if we could just get out of the neighborhood. The roads were clearing and those 6 little plows had cleared the highways and main streets some.
The sad part about all of this is that we didn't even get to enjoy the snow and play in it. Snow just isn't as exciting when you know you can't come back in to hot chocolate and a cozy, warm house. Avie's first snow and she didn't even get to go out and touch it. Oh well. I guess there will always be more snow. And it makes for a memorable Christmas!