It's officially over! The $30/week challenge is over! I have proved we could do it and depleted our stores in the process, but it was a good cleansing. At last update I had $10 cash. I now know why I don't use cash: I have no way to account for it. If I spend a dollar here and a couple at a garage sale… I don't have any way to go back and track it.
Anyways… $10. With that $10 I spent $2.09 on a gallon of milk, $1.04 on tortillas, and $6 toward a dresser (the one I still need to post about). I have $.38 left and I guess the rest probably went toward tolls from last weekend. So basically I had a surplus of $6.87!!! Can you believe that I not only fed both of us on $30/week, but that I had $6.87 left over!?! I can't.
The last week of June we had:
The pork chops we were supposed to have at our small group BBQ because we didn't get them cooked long enough and ended up eating hot dogs and saving them for Monday.
Pizza dip with the out-laws
Pecan and honey crusted Salmon with veggies
Baked pasta from the freezer
Baked potatoes
And apparently a few other things I forgot to write down, but can't remember now.
We left Sunday afternoon for Wichita, so we ate mac and cheese quickly before we left. Then, Thursday night, when we got back, my parents stopped at our house on their way to Marshall. They went and got dinner, so we didn't have to (since we had NOTHING left.) Saturday we managed to make some yummy stir fry with our last pork chop, the last of our frozen veggies and the last of our rice. Since I didn't make it shopping Saturday, we had Little Ceaser's Hot and Ready for lunch Sunday and then ate in the suite at the baseball game Sunday night!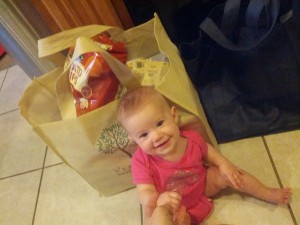 Avie and I finally made it to the store today! And boy did we spend some money stocking up on all the things we drained last month! $91.46 to be exact. (Also, a little tip, when it's this hot, if you're going to multiple stores, or travelling a long way, take a cooler with ice packs in it to keep your frozen, cold and produce items cool.)
For this week we have:
Fettuccine Alfredo – Ansen created homemade sauce with parmesan and romano cheeses, sooooo yummy! And some zucchini from the bunches people keep giving us.
Fish Tacos – Swai was on sale, so we'll batter them and fry them in a corn shell, top with some slaw and thousand island.
Guac Burgers – Home made rolls, burgers, lettuce, guacamole and maybe some home grown tomatoes
Raspberry Pork Chops – Ansen found this recipe, so I don't know what all it entails, but there is raspberry jam involved!
BLAT wraps – Bacon, Lettuce, Avocado, Tomato wraps!
Mexican Pizza – Kind of like an enchilada casserole in a pie plate
French Dip Sandwiches – Roast beef sandwiches on hoagies with au jus (which is kind of redundant, since au jus means 'with juice')
There might even be some things we can use for our next week's menu!
PS this counts as my photo for the day for the July Photo Challenge!