The great thing about Saturday being our anniversary is that we basically had the entire weekend to celebrate. But before we get to the events of Sunday I have to update you on this fun little dresser. The drawers were falling out when you pull them out. So I installed drawer guides on the backs of all of them. This picture shows the problem on the bottom drawer and the second one has been fixed! Now, this dresser is fully functional.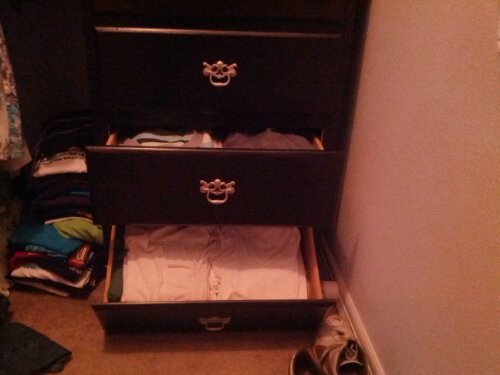 Saturday, while shopping, we picked up my hot new shoes I ordered on Payless.com on discount with a $5 off of $25 and ended up paying something like $19 for both these and some strappy sandals.
Sunday, I had an occasion to use them! Sunday evening we had a baby sitter (Thanks Vonda!!) for the first time in a long time. Then we headed to Crabby's in Rogers. It's an upscale seafood restaurant that has delicious seafood bisque and perfect salmon. Normally, we can't afford it, but we had a Restaurants.com giftcard, which we used for Crabby's. The requirements for it, though, is that you have to purchase $50 to use the $25. That meant we had to get an appetizer, haha. But, we couldn't get dessert because after going to see the new movie Brave, we definitely wanted to make a stop at Cold Stone (and take a goofy picture).
As I said, we went and watched the movie Brave. I know there are lots of good movies out right now, but we're kind of kids at heart. It was a cute movie. Kind of a predictable story arch, but there were a few unexpected twists and some lessons on values. When we came home, Avie had a little wake up just in time for a perfect end to a perfect day.
So that concludes our photo challenge for the month of July. What does August hold? Well, I think we're going back to the issue of the food budget. After our $30/week challenge in June, I started thinking about what the total cost of specific meals were. I kept track of some of them and was fairly surprised at what I thought was a cheap meal but turned out to be one of the most expensive (TexMex casserole) and what I expected to be expensive and wasn't (French Dip Subs and Fettuccine Alfredo). Over the next month, I'm going to pick a meal or two each week and talk about the total cost, what was pleasantly at or under $3 per person and what was surprisingly over $3. Oh, and I'm sure we'll have some random posts about the adventures of the Avelator.